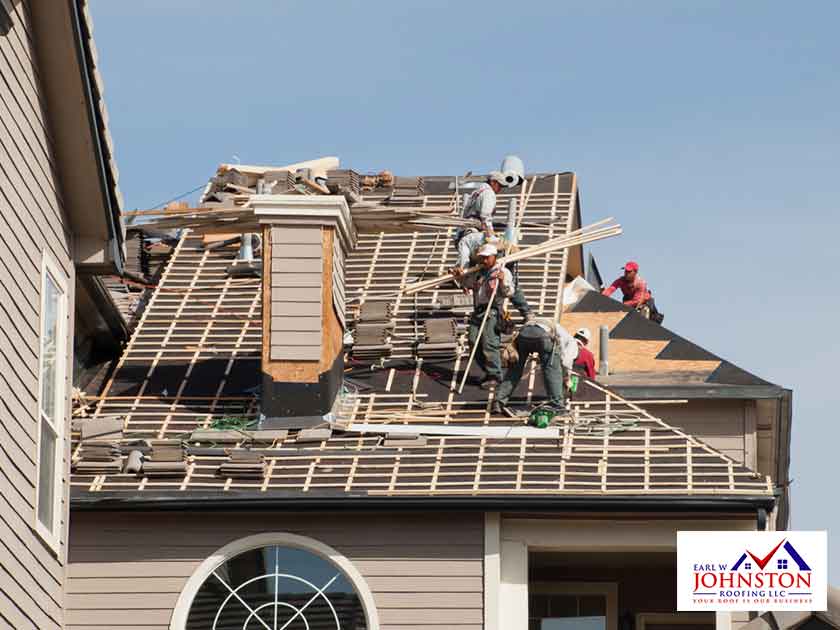 Sloped roofing systems can be installed two ways: the standard process where the old roofing is torn off, and overlay, where a new roof is installed over the old one. Some homeowners choose the latter method because of cost savings. But are the savings worth it? Earl W. Johnston Roofing shares a look.
Tear-Off Vs. Overlay Installation
You may already be familiar with the standard roofing installation process, where the old roof is stripped down to the decking, which may be kept or removed depending on its condition. A new roof, starting with the underlayment, will then be installed. Decking is usually good for two installations, and is therefore replaced every other installation. Overlay installation, on the other hand, eschews the tear-off stage. A roofing installer would simply install a new roof, from underlayment to shingles, directly over the old roof.
Why Do Some People Choose Overlay Installation?
The short answer is quite simple: savings. By skipping the tear-off stage, it eliminates the labor needed to remove the old roof and dispose of it. There are certain conditions that can make overlay installation favorable, such as when the existing roof is well-maintained, or if switching to a much lighter material like metal roofing.
Why Tear-Offs Are the Better Option
While the savings offered by overlay installation sounds attractive, you have to consider how it will affect the roof down the line. An overlay installation wouldn't have a wind rating as high as standard roofs would have because the fasteners wouldn't penetrate as deep into the roof deck. This means it's more likely to get damaged when a storm hits your area. This method also doesn't give the roofer the opportunity to address structural issues and hidden damage, which can become worse over time. The combined weight of the old and new roof would also put additional stress on the roofing structure.
Comparatively, the standard method is like giving your roof a fresh start. Structural issues can be addressed before the new roof comes on, which provides a soundly-built foundation with less likelihood of failure. These roofs usually have better warranty coverage, and can even be favorable towards your homeowners' insurance premiums. Ultimately, this method can give you the peace of mind knowing you have a roof you can count on, as well as savings from fewer repair appointments.
Earl W. Johnston Roofing is your leading provider of asphalt shingle and tile roofing installation services. Give us a call at (954) 989-7794. You can also fill out our contact form to schedule an appointment. We serve customers in Ft. Lauderdale, Weston, and Hollywood, FL.