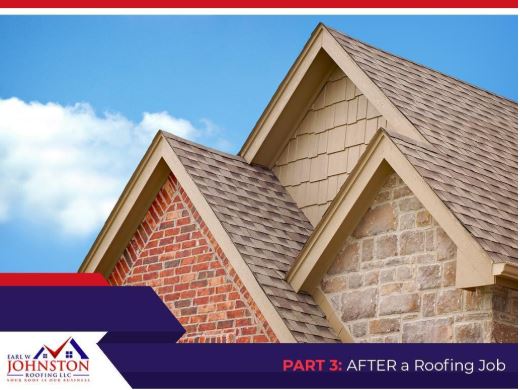 It's Done!
Once the work has been completed, your contractor will sit down with you and go over any final details to do with the project. He'll present you with your Warranty Packet and entertain any final questions you may still have. After that, there's one additional thing that needs to be done: Before moving on to the next job, your roofing contractor needs to ensure that the job site is cleaned up thoroughly.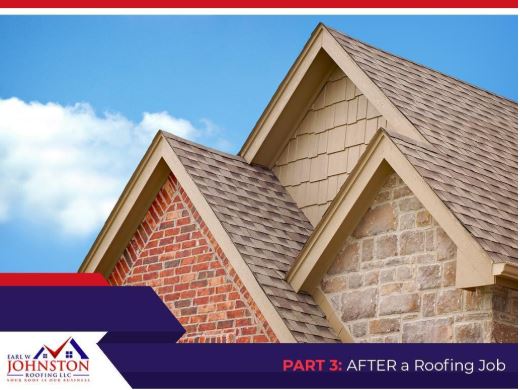 Roofing Clean-Up
The last part of a roofer's job is ensuring the proper removal of any roof-related debris that resulted from the project. This debris typically includes roofing nails, shingles or tiles (or other roofing material), pieces of fascia and flashing, roofing underlayment and pieces of decking. Roofers will likely have a dumpster on-site, and may remove debris even as the job is in progress. Tarps will also be laid down to minimize the mess.A clean-up procedure must be specifically outlined as part of a complete roofing job. Keep these tips in mind:
Only sign off on a roofing job after you're satisfied with the clean-up. Ensure that any debris that wasn't there prior to the roofing job is removed.
Have your roofer check for nails once more before leaving the site. It's worth the little bit of extra time, as nails can be stepped on or become flying projectiles when run over by a lawn mower.
Has your lawn or landscaping been damaged by the roofer?  Accidents can happen no matter how careful a roofer is, and damage should be dealt with to your satisfaction before you sign off on the project.
Make sure any roofing tar — which is sticky and hard to remove — is cleaned up off of your sidewalks and siding before your roofer leaves.
Ensure that any debris that may have been left in the attic is cleaned up.
Have the contractor haul away the dumpster within 3 days of work completion.
Make sure that the contractor does a final assessment to inspect the roof for quality.
Inspection and Final Payment
As the homeowner, you should:
Confirm that a quality job and satisfactory clean-up effort has been completed.
After dumpster removal, inspect your driveway and yard in case any stray nails remain.
Make your final payment.
One of the most important investments you can make in your home — your beautiful, well-installed new roof –is done! You've taken an important step in lengthening the life and value of your home, as well as increasing its curb appeal.
When you're prepared and know what to expect before, during and after a roof installation, the entire process will be pleasant and efficient, and you'll enjoy peace of mind knowing you have a roof that will last for years to come.
| | | | |
| --- | --- | --- | --- |
| www.johnstonroofing.com | Earl W. Johnston Roofing | (954) 989-7794 | 5721 Dewey Street Hollywood, FL 33023 |